The LiteSpeed Cache Dashboard allows you to see the status of all of your LSCache and QUIC.cloud services at a glance.
Please make sure your URL of installation is in https not http. This is because LSCache need your site to run https to take advantage of http2 & http3 speed.
to change your URL from http to https – Go to Dashboard – Settings and update both URLs from http to https.
If you use WordPress manager please edit the URL from http to https:// and click save.
If you encounter SSL issue or SSL not properly installed. Please contact support.
Please enable Object Cache
OFF
Object Cache is disabled by default. Select ON to enable it and then configure it via the settings described below.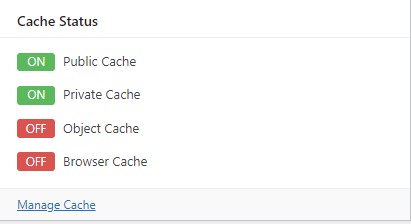 An object cache stores the results of expensive and/or frequent database queries in a way that makes them easy to retrieve, and eliminates the need for repeated access to the database. Object caching greatly reduces the time it takes to retrieve query results.
For example, your WordPress site's options are stored in the database. Site options include things like the site's name and URL. Every time a page is assembled for a visitor, it is necessary to access the database to read the site options. As you can imagine, these repeated queries for the same information represent wasted resources. With an object cache, you can query the database once, and save the results for a set period of time.
3. Activate Quic.Cloud service to monitor performance and other free services.

Click check my public IP from DoAPI.us and after that request domain Domain Key.
All done. You can go to main page and refresh stats and it should be displayed like this

Alternatively you could also use https://check.lscache.io/ to check whether your cache is working.